Author Janice Bloom has just asked me to edit the 4th book in her self-published
Under the Bed
Children's series. I am so thrilled to be a part of this book project. Janice's books target ages kindergarten through third grade and are getting a lot of praise from teachers, librarians and parents.
The book series is built around an imaginary village called Clohverville inhabited by the "Ohmadillapicklearoos, Those Villager Dust Bunnies Under My Bed." Chief among the dust bunnies is "Mr. Oh" with his tools of wisdom and experience. Other charming characters include Mrs. Oh, Bo Oh, the Widow Buttons, and a special little bunny named LooLoo Palloo.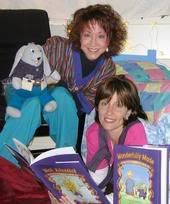 Author Janice Bloom and
Illustrator Marcy Woodcock
of the

Under My Bed


book series for children
ages kindergarten to 3rd grade.
In the first book
Wonderfully Made Under My Bed
, three children - Kristy, her brother Bryan and their friend Jesse - learn that each person has a unique gift to share with others. Book 2
Not Afraid Under My Bed
is about overcoming the fear of rejection. Book 3,
A Grateful Heart Under My Bed
shares the secret to true contentment - being grateful for what one has and not yearning for what one does not have. Each book is fabulously illustrated by talented artist Marcy Woodcock. I am so impressed by her work. There is also an excellent companion teaching guide for each book written by educator Linda Rinn.
The fourth book is entitled "
Caring Actions Under My Bed
" and I just can't wait to read it as soon as Janice gets the manuscript to me. I will keep you all updated on the project. If you are a teacher or a parent of children in the target age group, I really encourage you to visit her website http://www.villagerbookpublishing.com. Janice also has a myspace site under construction. I hope all my myspace friends will welcome her. The url is http://www.myspace.com/characterinbloom