This is something that I have done on my Myspace blog for the last two years and decided today to try it on this blog also. Here is how a "blog prayer rally" works: When you visit my blog take some time to pray for the requests here and then if you have a request for a family member or friend who works for any level of government - local school district, city, county, state or federal government - please leave a prayer request for them. You can be general and do not have to even leave their name. Just enough so that we can bring them before the Lord. We especially want to pray for those serving in the military. If you request pray for a member of the armed forces, please DO NOT give identifying information, such as unit designation or the specific town where they are located.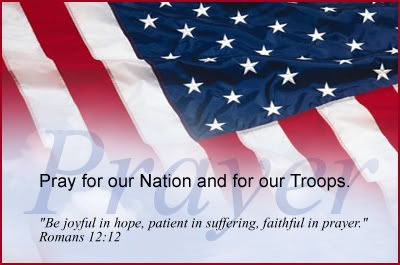 PRAYER REQUESTS
Please join me in praying for our nation and all our public servants and government employees.
PRAY FOR OUR NATIONAL LEADERS: Our president and all those who work in the executive branch. Our legislators, specifically your state's senators and Congressmen. Pray for the Federal judges from the Supreme Court to the Federal District Courts.
PRAY FOR STATE LEADERS: Pray for your governor, legislators, and judges.
PRAY FOR COUNTY AND CITY OFFICIALS: Pray for your county and city officials and all who work with them.
PRAY FOR OUR SCHOOL DISTRICTS: Pray for all employees of your local school districts, especially for teachers and administrators.
PRAY FOR OUR TROOPS: Say special prayers for our young men and women serving in the military, both at home and abroad!
As always, I ask you to keep my son Danny in your prayers. He is currently serving overseas.
PRAYER: Here is the prayer from the 2009 National Day of Prayer website:
2009 Prayer for Our Nation
by Beth Moore, Honorary Chairman
Father in Heaven,

We lift our eyes toward Your Throne, where You reign in righteousness.

Your Word assures us that when Your people cry out in sincerity and humility, You will never turn a deaf ear to us.

We call upon You now, seeking Your forgiveness and favor.

Look over this fevered landscape and heal us, Lord.

Drop knees to the floor and raise eyes to the sky, for we know where our help comes from.

Unite these States again in devotion to You, and blur every dividing line.

Do not give us over to our sins. Give us, instead, over to passionate prayer that moves Your heart.

"May Your unfailing love rest upon us, O Lord, even as we put our hope in You."

In the Name of our Lord and Savior, Jesus Christ

Amen
Please leave a prayer request.