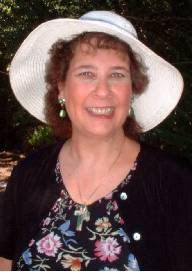 By Tammy L. Hensel
Copyright 2009, All Rights Reserved
Corrie Ten Boom (1892-1983) is in my opinion one of the greatest OVERCOMERS of the 20th century. Her writings, especially her book
The Hiding Place
, based on her experiences as a member of the Dutch underground and a prisoner in German concentration camps during World War II, have blessed my own life in so many ways. I was about 14 years old when I first read this book and it made a lasting impression on me. I read it so much that I had portions of it memorized.

I had the honor of meeting Corrie Ten Boom once in the late 1970s when as a student at Baylor University (Waco, TX) I attended a luncheon at which she spoke. Since that time I have shaken hands with several high profile people the world calls celebrities, but the brief encounter I had with this awesome lady of faith is one of my most treasured memories.


(photo from photobucket.com)




When in 1837 Corrie's grandfather opened a watch shop in his home at Barteljorisstraat 19 in Haarlem, near Amsterdam, The Netherlands, he didn't know the plans God had for the building a century later. Even before the Nazis invaded Holland in 1940, the ten Boom home, fondly called "the Beje" was well-known as a place of hospitality where Christ's love was abundant.

Cornelia Johanna Arnolda ten Boom was born on 15 April, 1892, the youngest of four children. Her mother died of a stroke at the age of 63. Her father Casper ten Boom was a well-liked watchmaker, and often referred to in his later years as "Haarlem's Grand Old Man." Her sister, Elisabeth (Betsie), was born with pernicious anemia. Neither Betsie or Corrie ever married. Her sister Nollie, a school teacher, married, and had six children. Willem, her only brother, graduated from a theology school, married and had four children. Also living in her household were three of her mother's sisters known as Tante (Aunt) Jans (pronounced 'yunss'), Tante Anna, and Tante Bep.

Corrie began training as a watchmaker in 1920 and in 1922 became the first female watchmaker licensed in the Netherlands. In 1923, she helped organize girls' clubs, and in the 1930s these clubs grew to become the very large Triangle club. Corrie had a heart for the mentally handicapped and spent a lot of her time sharing the love of Christ with them. She wrote about her experiences bringing the gospel to the mentally handicapped in her book
Common Sense Not Needed.
When the Nazis occupied Holland they banned all youth clubs, except the Hitler youth. The also prohibited special care for mentally handicapped people and executed many of them.

When Jewish neighbors began arriving on their doorstep seeking sanctuary soon after the Nazi occupation began, the ten Booms took them in, knowing full well the risk they were taking. When word spread to the Dutch underground about the ten Booms house guests, Corrie was approached about doing more to help the effort to oust the Nazis. The underground organization helped the ten Booms build a special room to hide their guests should the Nazi's search the house. The room was the size of a medium wardrobe, 30" deep, with an air vent on the outside wall. The only entrance was a small hatch which slid open to let the occupants in and out.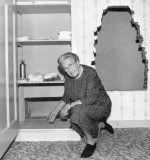 (photo from photobucket)

The Nazis arrested the entire Ten Boom family on February 28, 1944 after they were betrayed by a former employee. On the night of their arrest a Gestapo officer offered to release Casper ten Boom if he would promise to behave himself. His answer underscored the whole family's courage and commitment to their helping their fellowman.


"Willem led Father up to the desk. The Gestapo chief leaned forward. 'I'd like to send you home old fellow,' he said.'I'll take your word that you won't cause any more trouble.'
I could not see Father's face, only the erect carriage of his shoulders and the halo of white hair above them. But I heard his answer.
'If I go home today,' he said evenly and clearly, 'tomorrow I will open my door again to any man who knocks.'
The amiability drained from the other man's face, 'Get back in line' he shouted." (p. 137-138)


I often wonder if I would have the same courage all of the ten Booms had in the same circumstances. Sometimes when I face something that seems difficult to bear I remind myself that my own trial is very small to what Corrie ten Boom suffered and survived. Corrie's sister Betsie said to her while they were at Ravensbruck, one of the most notorious concentration camps in Germany,
"[We] must tell people what we have learned here. We must tell them that there is no pit so deep that He is not deeper still. They will listen to us Corrie, because we have been here." (Copyright 1971, p. 217)

After the war, Corrie set up rehabilitation centers for concentration camp survivors and wounded soldiers in both the Netherlands and Germany. Slowly she began sharing her story at churches and other gatherings, eventually becoming a world traveler or
Tramp For the Lord
as she called herself in her book about her travels. She authored many other autobiographical and inspirational books including:
Each New Day
;
Father ten Boom - God's Man
;
In My Father's House
;
He Cares, He Comforts
;
He Sets the Captive Free
;
Don't Wrestle, Just Nestle
;
Corrie's Christmas Memories
;
Amazing Love
;
I Stand at the Door and Knock
;
A Prisoner and Yet
;
Plenty for Everyone
;
Not I, But Christ
;
Not Good if Detached
;
Marching Orders for the End Battle
;
Messages of God's Abundance; Reflections of God's Glory; Common Sense Not Needed
;
Defeated Enemies
and more
.
I haven't read all these books, but the ones I have read really inspired me. Her writing style is very informal and friendly, as if she is sitting across the table, tea cup in hand, chatting with you.


The Hiding Place
" was made into a movie in 1975. Although it is very moving, I really recommend reading the book before viewing the movie. You get such a better understanding of Corrie deepest thoughts and feelings and sustaining faith reading her own words.

Others have also written about her in books such as:
Corrie Ten Boom: The Watchmaker's Daughter
by Jean Watson,
Corrie Ten Boom: Heroine of Haarlem
by Sam Wellman,

Are All The Watches Safe

by Catherine MacKenzie,

Corrie Ten Boom: Shining in Darkness

by Renee Taft Maloche,

Life Lessons From The Hiding Place

by Pamela Rosewell Moore, and
The Five Silent Years of Corrie Ten Boo

m
by Pamela Rosewell Moore
. I have not read these biographies, but just noticed that they are available. Some of them are specifically targeted for young readers. If you know of any others, please leave the title and author in a comment.

In 1977, Corrie, then 85 years old, moved to Orange, California. Successive strokes in 1978 took away her powers of speech and communication and left her an invalid for the last five years of her life. She died on her birthday, April 15, 1983, at the age of 91. Her legacy of faith in the most devastating of human circumstances will never be forgotten.

The Lord led me recently to put up a tribute site to her on Myspace to honor her legacy of faith and to keep her story alive as an inspiration for another generation. Besides my well-warn copy of
The Hiding Place,
I also discovered while unpacking some old copies of
The Hiding Place Magazine
published in the 1970s and early 1980s by Corrie's ministry organization Christians Incorporated. I am trying to track down the copyright holder, since Christians Incorporated is no longer active so that I can reprint articles from it on the Myspace blog attached to the site. If you are a member of Myspace and want to add it as a "friend" the url is: www.myspace.com/corrietenboom.

Sources:
The Hiding Place
by Corrie Ten Boom, Copyright 1971;
The Hiding Place Magazine
, copyright Christians, Incorporated; Wikipedia http://en.wikipedia.org/wiki/Corrie_ten_Boom; The Corrie Ten Boom Musuem site http://www.corrietenboom.com/history.htm