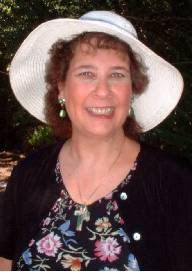 By Tammy L. Hensel
Copyright 2010, All Rights Reserved
Happy New Year everyone!
Last night I watched the movie
Julie & Julia
and found it very inspiring. For those of you who haven't seen it, the movie it is based on the true story of how writer Julie Powell gave herself the challenge of preparing every recipe in Julia Child's famous cookbook,
Mastering the Art of French Cooking
in one year and blogging her progress. As she studied not only Julia's recipes, but her life story as well, she became more and more inspired to pursue the two things she really loved to do - cooking and writing.
The movie inspired me in many ways, but especially in my writing. A few weeks after I started this blog in January 2008, I was challenged by fellow writer and editor Lillie Amman to write out my goals for the blog and for my writing. In reading back over that post "Tagged by Lillie" (see link in my blog archives), I see that I was very ambitious in my goals and of course fell very much short of them. But some of that is because God simply took me in a different direction that I envisioned for myself at the time. And as usual, He does know better.
In 2008, I was still very new to the Internet and the whole idea of blogging. I began in 2007 on myspace, very timidly posting my reflections on some favorite Bible verses and then progressing to full blown devotions and Bible studies. I found that I thoroughly enjoy that type of writing. I put this blog up because some of my friends wanted to read those blogs, but were uncomfortable with joining Myspace. I also planned to use the blog as a showcase for my versatility as a writer in the hopes of finding more writing and editing opportunities. That is one goal that I have achieved through it, as some of my devotions and one interview were picked up by inspirational webzines.
In setting my goals for 2010, I am again being ambitious. That's why I'm calling them goals for 2010 and beyond. However, posting my goals here does give me some accountability and hopefully encouragement and prayers from you, my readers.

Goal #1 - Stay on my exercise program.
You may say - that's not a writing goal - but as I discovered this past year, good health provides the energy I need to write. So I have to put my post-therapy exercise program as a top priority, even when it takes me away from the computer. I also have to take breaks to garden and do other things that relax and get the creative juices flowing.

Goal #2 - Work some every week on a book project.
My first book project is a Bible study book on the principles of marriage that my hubby and I are co-writing. He was also inspired by the movie and said as the ending credits began, "We
have
to get busy on our book!"
While I am still doing some research it has moved into the writing stage and chapter 1 is just about finished. So I hope to begin chapter 2 in the next couple of weeks. I have ideas for a couple of other Bible studies after that one, and am also thinking about turning novelist. I have an idea for a historical novel series that I am already beginning to research. I haven't decided yet if I want to self-publish or look for an agent, but if any agents read this and are interested, please contact me.
Goal #3 - Continue to explore and take advantage of writing and editing opportunities God sends my way.
I really love interviewing and want to always do that even if I turn book author. I also love editing and encouraging other writers in their projects.
Goal #4 - Post blogs on a more regular basis.

Last year I was not able to post as often as I wanted due to health issues. I posted beginning blogs for two series, one on church hymns and another on authors, music artists, and others who inspire me. I want to try to follow-through with those ideas this year and be more consistent with my posts. With my other work, I may not be able to post a blog every week, but am trying for every other week, though perhaps it is best to commit to once a month. Hmm. Sounds like I am already backing out of goals doesn't it. (LOL) But I do want to be practical.
Again, my goals are very ambitious, and a lot will depend on my health. I appreciate all your prayers and especially all the kind comments I get from my readers. God bless you all. :D
Here's one of my favorite songs that always inspires me: